Take Action: Help Protect Ticket Rights in Illinois
Help state lawmakers pass the Illinois Ticket Sale and Resale Act.
We need to make sure that State Senators hear from fans of live events who support this legislation. Otherwise, large and powerful corporations will oppose this legislation.
Why it matters: The Illinois Ticket Sale and Resale Act is pro consumer and all about codifying into law some basic rights that you have as a ticketholder. The law will modernize the state's existing ticketing laws by preserving your ability to give away, resell, or generally transfer your purchased tickets if you wish and however you want to. It will also ban the use of software bots by ticket sellers that are already illegal per federal law because they are used to buy up massive amounts of tickets before real people have a chance to buy them. The Illinois Ticket Sale and Resale Act is similar to laws in other states that protect your consumer rights but it goes an extra step and may soon become the strongest consumer ticketing law in the country because it will also require refunds for events that are cancelled or postponed for the long term in a pandemic-like situation in the future. Millions of ticketholders and ticket sellers were left in an uncertain situation in 2020 when events were postponed for a long time. This law will require a refund option.
Illinois Consumers Agree! In a survey of 500 Illinois adults March 25 – 29, 2021, nearly 9 out of 10 consumers support the passage of legislation that provides the refund and transferability protections included in the Illinois Ticket Sale and Resale Act.
Here are the survey results: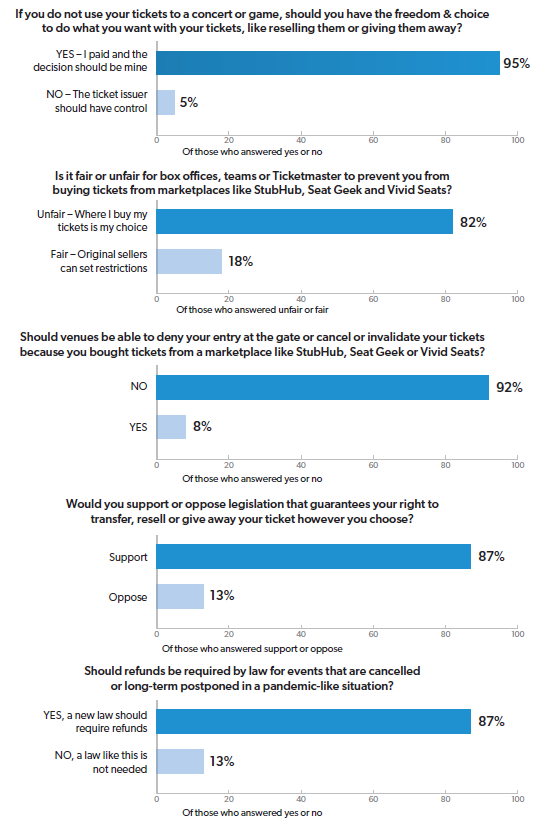 Take action: Support Protect Ticket Rights and our work in Illinois!
Sign up

to receive our e-mails. We will not SPAM you and we will not share your email with anyone. It will be used only by us to keep you updated.

Post this blog on your networks with #PasstheTicketSaleandResaleAct and tag @ticket_rights