With Over $6 Billion in Public Financing for Stadiums, NFL Teams Should End Ticket Restrictions
WASHINGTON — Following the multi-state Settlement Agreement with six state Attorneys General to end the National Football League's (NFL) "price floor" ticket resale policy, and with the Super Bowl fast approaching , Protect Ticket Rights, an initiative of the National Association of Ticket Brokers, calls on individual NFL teams to permanently heed to provisions of the Settlement Agreement and to end other ticket resale restrictions that negatively impact fans. Protect Ticket Rights' analysis shows $6.3 billion [1]of taxpayers' hard-earned money has been spent on the public financing of NFL stadiums since 1995, yet despite these subsidies, taxpaying-fans continue to be exploited by teams and experience unfair practices that restrict the purchase, sale and transfer of their tickets.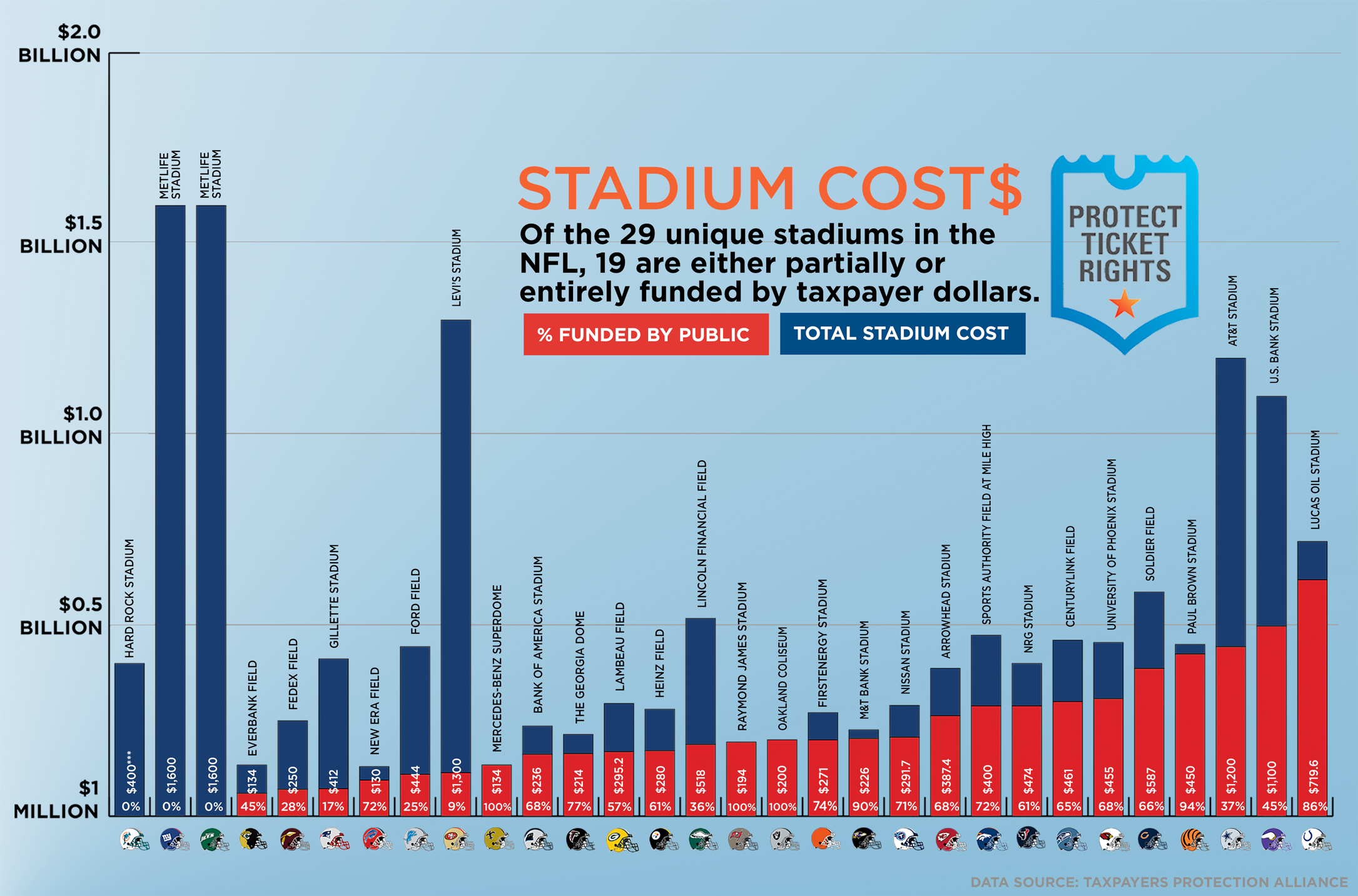 "What these football teams are doing is anticompetitive, abusive and smacks of hypocrisy when they rely on billions in taxpayer funding to build or renovate the stadiums where they play while restricting taxpayers' ability to sell or transfer their tickets as they wish," said Gary Adler, NATB Executive Director and Counsel. "It's blatantly harmful to consumers and market competition, and unless teams individually do what is fair and end these practices, lawmakers should take action. Teams are paid their full asking price including fees and taxes at the initial ticket sale and should not be able to dictate how a ticketholder might resell his or her ticket, including imposing a second round of fees. All of this result in less choice and higher prices for fans," continued Adler.
Within the last 20 years, taxpayers have picked up most of the tab for the overwhelming majority of NFL stadiums. Three teams have relied on 100 percent of the construction or renovation charges for their stadiums from fans, which include the Tampa Bay Buccaneers, Oakland Raiders and New Orleans Saints. In fact, 19 of the 29 stadiums have relied on more than half of stadium costs from the fans. The only teams that have used outside funding for their stadiums are the Miami Dolphins, New York Giants and New York Jets.
As part of a multi-state Settlement Agreement in November 2016 with the Attorneys General of New York, Ohio, Pennsylvania, Massachusetts, Florida and the District of Columbia, the NFL agreed to halt its league-wide "price floor" policy that artificially restricted the resale price of NFL tickets in the secondary market. In addition, the Settlement Agreement prohibits the NFL from directing or requiring ticketing practices among teams that are designed to preclude fans from using competing exchanges. This is an important precedent and certainly a win for consumers and fans. While the Settlement Agreement applies to league-wide NFL practices, teams individually are not party to this Settlement Agreement and can enact team-specific restrictive policies and practices.
In announcing the Settlement Agreement, NY Attorney General Eric Schneiderman said, "No sports fan should be forced to buy, or sell, a ticket at an artificially inflated price. Under the NFL's price floor scheme, fans were forced to pay inflated prices for even the least desirable NFL games. That is a slap to both sports fans and free markets. My office will continue to fight for the rights of sports fans and concertgoers by ensuring that secondary markets are free and competitive. In the meantime, I encourage every NFL team – and every team in professional sports – to heed the call of all sports fans and remove price floors from every team-authorized secondary ticket market."
"The NFL agreeing to halt those league-wide practices is terrific, the League is doing the right thing and the NFL deserves credit for that, and now teams should follow," said Adler.
There are various ways teams restrict the open market transferability of tickets, or how they encroach upon the secondary market for additional financial benefit after they have already profited from the initial sale of tickets:
Extra fees on resale. Fans are by now well-acquainted with the experience of buying a ticket on one of the NFL's resale platforms, only to see its price substantially inflated by fees and charges. A prime example are the Pittsburgh Steelers fans who are forced to pay up to 20 percent in extra fees on the NFL's ticket exchange, even though 61 percent of Heinz Field's financing came from the fans directly. Similarly, although 65 percent of CenturyLink Field financing came from the public, Seattle Seahawks' fans can also expect to pay 20 percent in extra fees on the resale exchange. Protect Ticket Rights strongly supports a ticketholders' ability – without risk of penalty - to find and use a resale exchange of their choice, for instance one that may offer lower fees compared to the team's preferred exchange, which in turn may keep overall costs down for the purchaser.

Restricted paperless tickets. A growing number of NFL teams are deciding to use paperless tickets with added restrictions on how and where a ticket can be transferred or sold. This impedes the right of the ticket owner to employ them as desired. For example, it was reported that the Washington Redskins charged fans $50 to leave a ticket at will call, even though taxpayers contributed to nearly 30 percent of FedEx's fields financing.

Price floor minimums. Although the settlement announced in November between certain state Attorneys General and the NFL halted the "price floor" policy, which set arbitrary minimum resale prices, teams still may "unilaterally" impose their own floors. In fact, it was reported that the Tampa Bay Buccaneers (100 percent of the funding of its stadium came from taxpayers), would not allow any ticket to be resold on the NFL Ticket Exchange for less than $35.
"Teams plea for public financing to build their stadiums, and for those teams that play in venues supported by taxpayers, they should immediately end practices that unfairly try to control or profit from secondary market resale activity," said Adler.
NATB and its Protect Ticket Rights initiative defend the rights of ticket buyers and sellers through a stringent Code of Ethics, advocacy and in the public arena. They do so according to the values outlined in NATB's Ticket Owner Bill of Rights. NATB brokers are professional resellers that offer a 200% refund on guaranteed tickets.
Learn more about the project, NATB and the truth about the secondary market at www.ProtectTicketRights.org
[1] *In light of recent news about the relocation of the San Diego Chargers and the upcoming construction of the Los Angeles Rams' new stadium, Protect Ticket Rights does not include public financing figures associated with these teams in the $6.3 Billion total value.